100% nature friendly frames, made completely out of recycled paper
A product with no negative climate impact
The world will never be the same. Climate change has accelerated in recent years, the signs are everywhere and if we don't do something small now, our children and grandchildren will inherit a planet that may not be able to recover again.

That's why we at Zerpico have developed a product to support the reversal of these shocking figures. Zerpico was born in Sweden and nature and the environment are close to our hearts. That's why we are happy to finally be able to offer sunglasses that have no negative climate impact whatsoever.
Eco-Friendly Sunglasses - ReVision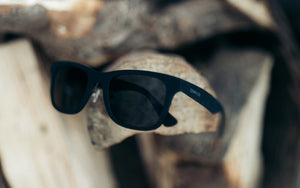 High quality & clean design
Our goal since day one has been to produce high quality sunglasses for our customers and fans. The most difficult part of this latest project has been to keep the quality and design look as high as possible, while keeping this new eco-friendly material at the same level of quality that our customers expect.
Which will be your favorite?
Wayfarers are the world's most famous design when it comes to eyewear. Although the model has changed gradually along the way, it will probably always keep the same design as it has done until now. When the sunglasses model first came into existence, they were considered revolutionary because they didn't then look anything like sunglasses that existed before.
Because of the distinctive and timeless design of the wayfarers, we decided to create a new version of it, with a frame made entirely from eco-friendly recycled paper. This model can now be chosen either with a black treated finish, or without, which retains the print of the paper they were created from.
For those who are more attracted to round sunglasses, we chose to create a round model that can also be chosen with or without a black finish.
Square sunglasses have continued to grow in popularity in recent years. The design has become an instant classic and is considered a dominant shape for those who want a sharper, slightly larger model. Therefore, they also lend themselves well to those who like more oversized sunglasses.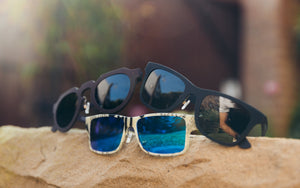 The process of making our paper frames
Obtaining recycled paper
Most of the paper that is being recycled today is old newspapers, so we try to get our hands on as much of it as we can. We also think that the prints from newspapers give them such a cool look when used as frames for sunglasses. 
Pressing under extreme heat
To be able to cut the paper into our desired shape, we need to press it under extreme heat to get it into a much more solid material. We are then being able to laser cut the paper with high precision into frames that will endure as much damage as more traditional sunglass material, such as stainless steel or acetate. 
Assembly
After the frame has been cut out, we polish it for a long time to get the surface we need, before we start to assemble the frames with lenses and temples. The whole process is done by hand and is therefore closely reviewed and precise.
Shipping process
When all previous steps are done, all products will go through a quality control that ensures that everything is of highest standard and will please both us and our customers. After that we pack the products in eco-friendly bags and recyclable paper cases before we ship out.
Recycle your sunglasses
Now you can enjoy your new sunglasses just as any other of your favorite pair of sunglasses. The difference is that Re:vision sunglasses is 100% biodegradable and can be recycled just like any other paper product.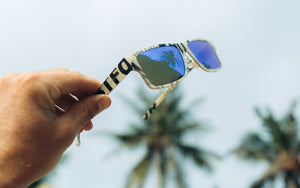 Next generation lenses for your paper sunglasses
The lenses might just be the most important part of a pair of sunglasses. And what good would they do if they didn't match the high quality of the frames? We have worked with our best factory to get these lenses to match the perfectly designed recycable paper frames.
Next gen polarization
First off we use 5 layer polarized lenses that effectively reduces glare, eliminating dazzling light reflection and scattered light which makes the vision more soft and clear. The polarized lenses have five layers composite materials with UV400 ultraviolet ray standard. This means that they block all wavelengths of light from 400 nm, which covers all of the UV spectrum. The first and last layer features a clear and durable scratch-resistant layer to avoid any damage you expose them to.