Eyewear made of real carbon fiber - Dare to stand out
A new generation of exclusive eyewear
We present Fibrous - a collection of full carbon fiber sunglasses that are made to stand out and specifically designed to endure any environment and any forms of damage. These sunglasses are built to last a lifetime and are the perfect accessory for all types of extreme activities, such as rock-climbing, mountain-biking, track days and sailing. Don't worry, if you're not into any extreme sports and just want to chill on the beach instead of heading out on a dirt bike, our carbon fiber sunglasses does that job perfectly as well. Zerpico have created a collection of highest quality shades with such an exclusive and luxurious look that they will make people look twice when you walk by.
We are Zerpico, and we know exactly what makes a pair of sunglasses awesome.
Hybrid - Carbon fiber & acetate sunglasses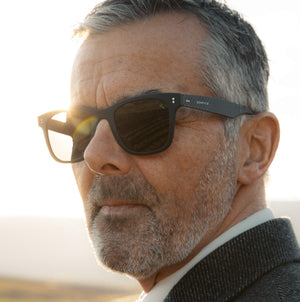 Express yourself with accessories made of exclusive and high quality materials
Nothing looks more beautiful than carbon fiber made the right way. When used properly, no material does a better job than carbon fiber when it comes to lifting up a product made for protection and using it as a fashion accessory. In other words, a sunglass frame made from high quality carbon fiber does wonders, as they are a perfect fit for your face and is a great way to lift your style to a new level at the same time.
Extravagant & flourishing
Through the years we have made a name for ourselves in the world of fashion with products made of exclusive and high quality materials, such as carbon fiber, titanium and wooden sunglasses. We have made a name for ourselves by only working with materials that are sturdy and lightweight and that takes popular fashion accessories such as sunglasses and bracelets from being plain and ordinary and make them more extravagant and flourishing .
Designed to give the best comfort and protection that money can buy
The durable carbon fiber we work with make the frames of our shades to stand out in a way other more traditional materials can't. When you purchase a pair of carbon fiber shades from our website you get a product that is designed to not only look really cool, you get a pair of sunglasses that provides the best comfort and protection that money can buy. This light and sturdy material can take damage in a way that more traditional materials fail to do.
Sturdy & lightweight carbon fiber
We set out to develop a pair of real carbon fiber sunglasses that offers quality and great design that you'll have a hard time finding in other places. And for a price that knocks out all of the competition on top of that. Big brands know that it is considered to be a highly appealing material and they charge huge amount for it. Our goal has been to offer a better product for a price that is reasonable and we stand for our product fully.
Even though the model has changed some since the first release we always try to maintain the core of the product. After some years of feedback and inputs we are improving the concept every year, doing what we can to make them as great as possible. And we will keep doing it simply because we love the lightweight and durable carbon fiber frame for eyewear and for other accessories that needs to be able to take punch.
Why carbon fiber sunglasses?
In situations where you need a material that is strong, stiff and light, there is no better material than carbon fiber. This composite material is used in many different places and is used for a number of different purposes. The main reason for its popularity is the rigidity of the material.
A carbon fiber frame for everyone
We are comfortable enough to say that the Fibrous is our personal favorite among our ever-growing selection of eyewear. That is probably the reason why we still put a lot of time and effort into making them perfect. We know that we are not alone in loving carbon fiber as a material so we will keep using it in different models and details. We recently expanded the collection of carbon shades by making a series of sunglasses made from a combination of carbon fiber and plant based acetate.
Fibrous
Full carbon fiber frame
We love carbon fiber for many reasons. With all of its advantages such as high stiffness, high tensile strength, low weight, high chemical resistance, high temperature tolerance and low thermal expansion it makes for the perfect pair of sunglasses. A full carbon fiber frame together with polarized lenses provides the best protection possible for your precious eyes and we keep upgrading the model so that it will keep its place in a highly competitive market.
Hybrid
Carbon fiber & acetate
Our Hybrid series consists of three different models; wayfarer, round and square and comes in two color of frames. Choose between a black front to match the rest of the frame or a transparent one for a little more modern style. To match the carbon fiber temples, we use cellulose acetate for the front. It's a non-petroleum based plastic made from natural cotton and wood fibers. Being a renewable material it brings a wide range of transparency, rich colors, and finishes to play with.
The acetate we use has benefits such as high strength, low weight & high flexibility.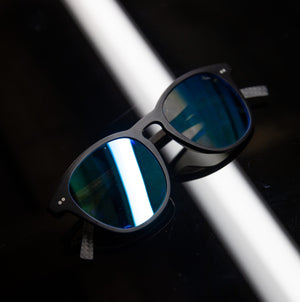 For our Fibrous model we used a classic wayfarer design and because of the carbon fiber temples they are highly flexible, durable and will fit any face and head size. The Fibrous collection provides high comfort and stands out while maintaining the classic wayfarer shape. We believe that we have made the perfect pair of sunglasses and we can guarantee that you'll love them as much as we do. We recently added a new model to our carbon fiber collection, a beautifully designed square frame, with the same qualities as our flagship wayfarer model. Our new square shaped carbon fiber sunglass frame looks just as good as the
The benefits of carbon fiber are endless
More and more industries now choose carbon fiber instead of steel and aluminum for their products. Although this material is a bit expensive compared to many metals, it is a popular material to use due to the amount of benefits it provides.
In recent years, the use of carbon fiber composite has grown enormously in the automotive and aerospace industry. The material is now being used for cars, motorcycles, sailboats and bicycles because of the strength it holds. The material is also well suited for electronic gadgets, USB devices and wristwatches by naming a few. Carbon fiber is also used when making parts for musical instruments such as guitar strings and drum shells. When it comes to sports it is often used in golf clubs, fishing rods, paintball accessories, archery, tennis racket and a lot more.
Carbon fiber stands out from other manufacturing materials for several reasons.
Some of them are:
Lightweight
Carbon fiber is even lighter than aluminum and titanium and has a low density with a very high strength to weight ratio.
Resistant to rust
Carbon fiber is known to be extremely stable and non-reactive which makes it a great replacement for steel when dealing with water and other moist conditions.
High tensile strenght
The strength of carbon fiber comes from the reinforcing fibers and is one of the strongest materials when it comes to tension.
Low thermal expansion
As a material, carbon fiber can be made to withstand extreme heat and cold without any change in shape or size.
Chemical resistance
When paired with an epoxy resin system, carbon fiber becomes resistant to most chemicals, alcohol and acids.
High flexibility
Carbon fiber can be made to bend while still keeping most of its tensile strength. This makes the material perfect for products like sunglasses.
High quality hinges
We use high quality five barrel hinges for the temples. You are able to tighten them whenever you want with ease. We have developed a screwdriver specifically for our sunglasses which makes it easier than ever to keep them in top condition. If you still manage to break the screws or hinges, we offer replacement screws as well.
7 layer polarized lenses
We use a 7 layer lens with some of the best features known to man. They effectively reduces glare, eliminating dazzling light reflection and scattered light which makes the vision more soft and clear. Also you won't feel scenery distortion and vertigo. These polaroid lenses have seven layers composite materials with UV400 ultraviolet ray standard, blocking all wavelengths of light from 400 nm. This covers all of the UV spectrum so that you can feel completely safe in the sun. The first and last layer features a clear and durable scratch-resistant film that keeps them looking great, no matter how roughly you treat them.
Of course, all lenses also comes with polarization, which means that they are specially designed to reduce glare from surfaces such as water, snow, and glass. Glare distorts the true color of objects and makes them harder to distinguish.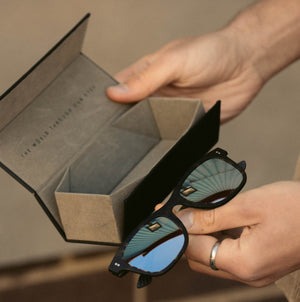 To make our sunglasses fit everyone we decided to use adaptable nose pads to make them as comfortable as possible for you face. All of our Fibrous sunglasses are delivered in an exclusive PU leather box that can be folded with ease so that it does't take up any space when you have your shades on. They also come with a microfiber pouch and a polishing cloth.
Free shipping
We offer free shipping on all orders over $100 from our shop and guarantee fast delivery all across the globe. We handle all of our orders with upmost care and appreciate all the love that we receive through customer reviews and other types of feedback.
Frequently asked questions about carbon fiber sunglasses
Carbon fibre is five times stronger than steel, twice as stiff, but at the same time much lighter. This makes carbon fibre an extremely good material for making products that will withstand a lot and last a long time.

Carbon fibre is also an attractive material to use because of its unique appearance. This, together with the strength of the material, means that it is often used, for example, in the motorsport and aerospace industries.
Yes, we use 100% high quality carbon fiber for our sunglasses. We always try to use the best materials and factories that can handle them for all our products, which of course also applies to our carbon fiber sunglasses.
Our carbon fibre sunglasses are specially designed to withstand all types of environments and to endure all forms of damage. Made to last a lifetime, the frames are perfect for extreme sports such as rock climbing, sailing, mountain biking, racing and motocross.
Of course, our carbon fiber glasses are also perfect for those who just want to look good while chilling on an outdoor patio.