A collection of handcrafted & unique wooden eyewear that stand out
Premium handcrafted eyewear made of wood
For those who are drawn to a more sustainable and eco-friendly lifestyle, wooden sunglasses is a great choice. And if you like to stand out with a style that is considered to be unique, you'll love a pair of sunglasses made from real wood. Our wooden sunglasses are a great choice if you're in search for a pair of handcrafted glasses of high quality and with polarized lenses that keeps you well protected in the sun.
Our unique collection of handmade wooden sunglasses are a balanced combination of plastic and wood that gives you the most natural feeling of comfort. With designs that are specially made to take you one step closer to nature, our selection of wood frame sunglasses are for people who are looking for something that is not like your average eyewear.
Eyewood - Wooden Sunglasses
Eyewood Reinvented - with changeable lenses
Engraved wooden sunglasses
Eyewood Tomorrow - Wooden sunglasses with full front lenses
Wooden sunglasses for kids
Quality wood sunglasses with proper uv protection for kids
We absolutely love using wood as a material for our sunglasses and we will keep upgrading our selection constantly. There will always be at least one new model every three months so you can keep upgrading your collection with models that will fit your every look. We even have a modest, but growing selection of wood sunglasses for children so that your whole family can embrace nature together. This is one of the many things that will occupy our minds in the coming months. To develop more family-themed models. We all know that children wants the same things as their parents are using and we want to embrace that by offering quality wood sunglasses with proper uv protection.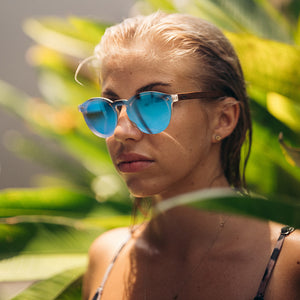 Express yourself with sunglasses made of exclusive and high quality materials
We wanted to create something that would stand out and offer the comfort and quality that would make keep people wearing them for longer periods without having to take them off. Therefore the weight was something that we put a lot of focus on. Every pair of these sunglasses are handcrafted to get the look that is distinctive for our the Zerpico brand. The collection is the one that is expanding the most, that has the most variation, with styles from wayfarer, clubmaster and round models to more modern models such as cat-shaped, rimless frames. 
All of our products are eco friendly, lightweight and can be worn by both men and women. If you're interested in getting your child a matching pair of glasses we even have a selection of shades that will fulfill those wishes.
Stylish sunglasses from real wood
Using wood as temples for our wooden sunglasses makes themas personal as they can be, as wood is a living material. It makes the temples smoother than the ones made of plastic. It makes every pair of sunglasses adapt to you and the more you wear them the more beautiful they get and the better fit they will have. As one part of the tree looks different from another part it makes one temple look completely different from another temple. It can't get more personal than that. 
We have received a lot of positive feedback for our new product and we have a lot of returning customers looking for new ways to utilizing the full capacity of their titanium eyewear.
Benefits of wooden sunglasses
Wood is an eco-friendly material that haven't been used a lot in the fashion industry yet. The benefits it provide are many though and we hope that more people will get aware of them in the near future.
Eco-friendly & sustainable
Plastic doesn't deteriorate in time like wood does. And polycarbonates can break down and produce carcinogens that are harmful of our environment. Wood easily makes for the most eco friendly frames you can get.
Strong & durable
A wood frame is made using a layering technique which makes them strong and durable. A coating layer is added on top, making the frame resistant to the elements. This gives you a product that will serve you for many years to come.
Unique & personal
Every product made of wood are as unique as the trees they come from. The distinct look, color and texture that the wood provides makes the sunglasses frame both unique and stylish. And by getting yourself a pair of engraved wooden shades will only enhance this fact even more.
Comfortable & lightweight
Wooden frames are very light, which makes them very comfortable to wear. As wood is a living material the frames feels smoother and even warmer than a frame made of plastic will ever feel.
Natural & allergy free
As wood is a natural material there are no risks of it causing skin allergies. Treat your wood frame with care and it will take care of you as well. Along with polarized lenses with high protection they will provide the best protection from UVA and UVB rays that money can buy.
ENGRAVED WOOD FRAMES
Designs that connect people
Another beloved series within the Eyewood collection are our engraved sunglasses. If there's anything we love it's being creative and so wanted to make a collection of even more personal handcrafted sunglasses. We receive so many positive reviews on these and we will do our best to make more great engraved designs. By widening the range of real wood sunglass models we aim to have a style for every person out there, starting with designs that are close to our hearts and that have made an impact on us as well as many of you.
Learn more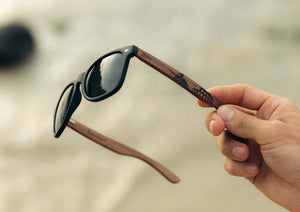 Exploring history
Engravings that tell stories
We try to include major events through history and cultures that have made an impact on the world we now live in. By adding elements that opens up for discussions and has the power of nostalgia as well as bringing men and women together, we strive to be the brand with the widest range of engraved wooden sunglasses on the market. To begin with, all of our engraved sunglasses are in wayfarer style but the plan is to start engraving other styles in the near future.
Go to engraved wooden sunglasses
Powerful patterns
Explore the era of vikings
Because of the fact that the brand was founded in Sweden, the mother of viking folk lore, one of our first designs we created explored the era of Vikings. As powerful and mighty as they were in their time we felt that this was an easy choice when designing a pair of engraved eco friendly wood sunglasses.

We spend a lot of time making new designs that we love and that we think others will love just as much. Sunglasses can be more than just something to block the sun with and we do our best to take advantage of all the possibilities they have. We consider our wood shades to be our playground where we can play around with different patterns and constellations that represent our brand.
Learn more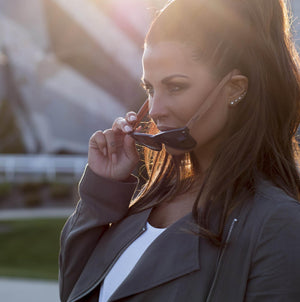 As our Eyewood collection is the widest range of eyewear that we offer, we have a lot of different models and shapes, from classic wayfarer models to round, square and clubmaster models. We use only the finest materials that we can find in our effort to provide you with the best products out there. Most of them are also unisex, making it possible for both men and women to find their next favorite wooden sunglasses with ease.
All in the details
High quality hinges
We use five barrel hinges made of stainless steel for all of our wooden sunglasses. You can easily tighten them whenever you want without any risk of harming them. They are hyper extendable so that you can put them on without harming them. We also developed a screwdriver specifically for our sunglasses which makes it easier than ever to keep them in top condition. 
Stay protected
Anti reflective polarized lenses
We offer a wide selection of different colors. Green, yellow, blue and purple are some of them, while black still remain as the most popular color.
The 5 layer lenses effectively reduces glare which eliminates dazzling light reflection and scattered light. You eye will thank you as this makes the vision more soft and clear. Also you won't feel scenery distortion and vertigo. These polaroid lenses have seven layers composite materials with UV400 ultraviolet ray standard, blocking all wavelengths of light from 400 nm. This covers all of the UV spectrum so that you can feel completely safe in the sun. The first and last layer features a clear and durable scratch-resistant film that keeps them looking great, no matter how roughly you treat them.
Protecting our eyes from UV radiation is as important as protecting our skin. UV protection is required all year since the only thing that changes is the time of day where sun exposure is highest.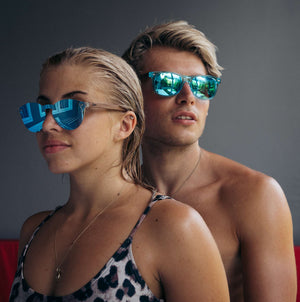 A pair of handcrafted glasses for everyone
In the coming future we will start experimenting with different compositions of wood as well as new colors and patterns. We will keep releasing special versions and limited editions so don't forget to sign up for our news letters as they go fast. We will strive to be leading force in the field of wooden sunglasses and we know that we will keep climbing the ladder as time goes. We will not stop.
Accessories
All of our wood sunglasses are delivered in a handmade, exclusive empress tree case and a microfiber pouch together with a polishing cloth, packed with everything you need on your coming adventures. 
Free shipping
We offer free shipping on all orders over $100 and guarantee fast delivery all across the globe. We handle all of our orders with upmost care and appreciate all the love that we receive through customer reviews and other types of feedback.
Frequently asked questions about wooden sunglasses
There are many reasons why people prefer sunglasses made out of wood. First off, wood is an organic material. This makes the temples smoother as the wood adapts to the person wearing them over time. Secondly, wood is eco-friendly and doesn't harm the environment as much as other materials usually do.
Many people prefer wooden sunglasses as they are highly comfortable, especially when wearing them over longer periods of time. For that reason they are specifically suitable for those having trouble with headaches or migranes.
No. In fact, our wooden sunglasses weigh as little as 24 grams!
Wooden frames are very light and comfortable to carry. Because wood is a living material, the frames feel softer and even warmer than a frame made of plastic, for example, will ever feel.
Our wooden sunglasses are made using a layered technology that makes them both strong and durable. A coating is then added on top, making the frame more resistant to extreme weather and other stresses. In other words, sunglasses made from wood give you great protection and will last for years to come.