Stylish anti-blue light / gaming glasses that help you maintain your focus throughout your day
GAMING GLASSES / ANTI BLUE LIGHT GLASSES
Everywhere we look these days we see a computer, tablet, phone or another type of screen. As we become more and more dependent on devices that radiate harmful blue rays more people notice that their eyes become strained and irritated after a long day in front of them. Being exposed to a computer screen for too long without having proper blue light blocking lenses can lead to various negative effects, such as blurred vision, headaches, red eyes, digital eye strain or even a disrupted sleep cycle.
Gaming glasses / Anti Bluelight Glasses
MOOD - Anti blue-light glasses
Nexus - Anti blue-light glasses
People around the world today tend to spend as much as nine hours a day in front of digital devices that emit blue light rays. Even kids of our time regularly have access to a tablet or a phone if they're not sitting online in front of a screen. Since all these devices radiate blue light, the negative effects that comes from too much screen time is only going to increase.
Some symptoms from exposure to blue light can be:
eyes getting strained
eyes getting too dry
blurry vision
double vision
neck strain
dizziness
disrupted sleep cycle
headaches or even migraines
mental fatigue
physical fatigue
WHAT ARE BLUE LIGHT GLASSES?
Blue light makes the muscles in your eyes work harder to process what you see after too much screen use. That is why your eyes feel more relaxed when you read from a piece of paper instead of reading from digital screens. When you use a computer or another digital device you tend to blink less which naturally leads to your eyes getting dry. Exposure to blue light can make it harder to maintain a healthy sleep pattern. This can have a huge effect on your ability to perform at a high level and may also result in permanent eye damage in the long run.
Gaming glasses with the right blue blocking technology
The best way to protect your eyes in this modern world may be blue light blocking glasses. To be able to block light that cause damage with a pair of blue light glasses is a great way to help gamers and developers to remain focused and being able to perform at a high level throughout their day. And since the options of finding a pair of blue blocking eyewear that makes you feel comfortable are increasing drastically you will have no trouble of getting yourself the a pair of the best gaming glasses with the right blue blocking technology.
STYLISH GAMER GEAR
Personally, we spend many hours of every week playing our favorite video- and computer games. We also do most of our work on a computer. These are just some of the reasons why we felt a strong urge to develop a range of high quality gaming glasses. In our opinion, anti-blue light glasses are even more important today than regular sunglasses, since we tend to spend way more time in front of screens than in sunshine. For that same reason we also wanted to make them as comfortable and light as possible. 
Gamers eyewear have never been more popular than they are are right now, and no matter if you prefer gaming glasses with yellow tint or glasses with clear lenses, we're sure that you will find your new favorite gamer glasses here.
A PAIR OF GAMING GLASSES FOR EVERYONE
Anti blue light & carbon fiber
We have developed a whole new collection of stylish blue light glasses / gaming glasses that will help you maintain your focus, and prevent your eyes from getting too much blue light exposure.
First off, we have made it possible for you to equip our popular Fibrous model, a full carbon fiber frame, with a pair of blue light blocking lenses. The super durable and lightweight carbon fiber frame makes any gamer or developer look cool while comfortably performing at the highest level. If you wear prescription glasses you can also get our Fibrous model without lenses so that you can put in prescription lenses as well.
Yin & Yang
computer glasses with photocromatic lenses
Secondly, we have developed two pairs of stylish plastic computer glasses with color-adaptive lenses that goes darker when you expose them to sunlight. These glasses, called Yin & Yang are much like our new Moo:D V2 sunglasses and is a strong addition to our growing collection of gaming and blue light blocking glasses.
NEXUS
A GAME CHANGER IN BLUE LIGHT BLOCKING GLASSES & SUNGLASSES
Our latest addition is our Nexus collection, consisting of seven different models which comes in multiple different colors. This collection of blue light blocking glasses is designed to take you one step further into the digital world.
A full range of stylish anti blue-light glasses
Ark is our version of the classic clubmaster glasses. They are available three different color options, a black frame with silver details, black frame with gold details and brown frame with gold details. Prevent headaches and eye strain caused by blue light with these classic glasses.
Dash is inspired by the classic wayfarers. These are available in three different color options as well; black, tortoise and clear, which is perfect for you who like more subtle glasses.
Hive is our model inspired by cat eye glasses and are available in the same colors as Dash; black, tortoise and clear. These are the perfect glasses for those who like classic glasses but still like to stand out. A fashionable blue light blocker for sure.
Holo is a circular design and we have chosen to use more colorful options for this model. They come in the classic colors black and tortoise, but they are also available in clear brown, clear gray/blue, clear gray/red and clear pink/blue. Protect your eyes from blue light while working infront of screens in a fun, colorful way with these blue light blocking glasses.
Icon is a mix between wayfarers and clubmasters. They are the perfect mix of two classic models and come in four different colors; black, tortoise, clear and clear rose. Give your eyes a break from blue light with these classics with a twist.
Nano is a version of round glasses that are available in three different colors. This model comes in black, black with silver details and tortoise with gold details. These are perfect for you that have digital work tasks and want to block the blue light you are constantly exposed to.
Tron is another version of round glasses, however, they are smaller compared to our other round models. They are available in six different colors; black, red, tortoise, clear, clear blue and clear rose.
Photocromic lenses
Our computer glasses do not only protect your eyes from harmful blue light, they also shield your eyes from UV light. We have chosen to include a photocromic lens in our computer glasses which means that they offer protection and reduce eye strain caused by both blue light and UV light.
There are millions of molecules embedded in photocromic lenses that undergo a chemical process when they are exposed to UV rays. This causes the molecules to change shape and the new structure of the molecules absorb some of the visible light which then makes the lens in the glasses darker and improve visibility, as well as protection from harmful UV light. When the lenses are no longer exposed to the sun they will go back to their original clear state. The lens automatically changes when it is exposed to sun and when they are used inside or in cloudy weather.
To wear comfortable eyewear is important, especially when you are wearing them a full work day. Therefore, we have focused on creating high quality eyewear and frames that have hyper extendable hinges and that will be comfortable througout the whole day. The hyper extendable hinges make the computer glasses fit most people since it makes the frames flexible and therefore they are able to sit comfortably on your temples.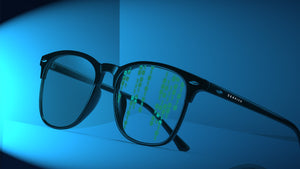 DO BLUE LIGHT GLASSES REALLY WORK?
Computer glasses are specifically made to help prevent eye strain that comes from being exposed to screens for too long and to make it easier to look at it for longer periods of time. The anti-reflective coating reduces the glare and light from devices such as tablets, smart phones, TV's and computer screens.
Not all coatings are the same though since using a cheap coating that smudge more actually can cause eyestrain instead. Scratch-resistant lenses with anti-glare, an increase in contrast, and being able to look at screens for longer periods of time are only some of the benefits that come with using anti blue light glasses. They also makes the vision clearer, which helps to prevent back and neck strain.
BLUE LIGHT FILTERING GLASSES WILL HELP YOU TO:
improve your sleep pattern
reduce eye strain
have less strain in back and neck
reduce glare from digital screens
stay focused longer
see enhanced colors and contrast
Can you wear blue light glasses all day?
With a pair of anti blue light glasses from Zerpico you can. Most blue light protection glasses are made especially to protect your eyes from the negative effects that come from too much screen time. While some blue light blocking lenses have yellow tint, most of them are likely to have totally clear lenses and won't do any good outdoors. What we have done is to combine the uv light blocking function from sunglasses with the blue light filter from blue light glasses. When the harmful uv light emitted from the sun reaches our blue light glasses, a reaction makes the lenses turn darker, making the glasses protect your eyes wherever you go.
Kids blue-light glasses
About 80% of what young boys and girls learn comes from using their vision and the amount of time that young children spend in front of digital screens today has increased significantly. Children who spend many hours in front of digital devices risk developing digital eye strain.
The benefits of blue light blocking glasses for kids are becoming more known by the day. They have been around for years, mostly for adults, as they have been used in offices and other work places that includes long periods in front of screens. As remote learning is becoming more common for children, blue light blocking glasses for children are becoming more and more necessary.
Too much of harmful blue light can also result in a disruption of the body's sleep cycle, making children more tired and less focused in school. A good night sleep is crucial when it comes to learning and to keep focused. Wearing blue light glasses is a great way for your child to stay protected both at home and at school because they are designed to filter out harmful blue light. Considering the health issues that may come from too much exposure, blue light glasses help blocking as much as 80% of the blue light that is emitted.
Our anti blue light glasses designed for children also has photocromic lenses, giving them the same benefits as UV protection glasses, so that they also can be used when playing outside in the sun. We have a lot of different styles and shapes of lightweight frames designed to give your children the best blue light blocking glasses available.
Digital eye strain among kids may show symptoms like:
Dry eyes
Tired eyes
Mental or physical fatigue
Headaches
Neck strains from poor posture
We offer so much more than just blue light blocking glasses
Even though our main focus will be to give you high quality sunglasses, we will also put a lot of time into developing many more styles of durable and trendy gaming and computer glasses. We are always looking for new ways to improve and as long as it's towards something better we will make sure that we find a way to get there. Simply put, our ambition is to bring you eyewear that give your eyes the best protection they can get.
As always, we put a lot thought into the packaging. We know how important it is with good packaging and how happy we get when we receive a gift where the box feels at least as great as the content. Every pair of our anti-blue glasses comes with a specially designed box, a pouch and a wiping cloth.
Frequently asked questions about anti blue-light glasses
Blue light glasses, also known as gaming or anti-blue light glasses, are designed to block harmful blue light emitted from digital screens. They help reduce eye strain, improve sleep patterns, reduce back and neck strain, reduce glare from digital screens, enhance color and contrast perception, and help you stay focused longer
Excessive exposure to blue light can lead to symptoms such as eye strain, dry eyes, blurry or double vision, neck strain, dizziness, disrupted sleep cycle, headaches or migraines, and both mental and physical fatigue
Yes, we offer a wide range of blue light glasses, including the Nexus collection with seven different models in various colors and the Fibrous model with a full carbon fiber frame. We also offer the Yin & Yang glasses with color-adaptive lenses
Yes, with Zerpico's anti-blue light glasses, you can wear them all day. They have combined the UV light blocking function of sunglasses with the blue light filter of gaming glasses, allowing the lenses to darken when exposed to sunlight and protect your eyes in varying conditions
For children who spend many hours in front of digital devices, blue light glasses can help prevent digital eye strain. Symptoms in children can include dry eyes, tired eyes, mental or physical fatigue, headaches, and neck strains from poor posture. Blue light can also disrupt sleep cycles, so wearing blue light glasses may help improve sleep quality. Zerpico's children's blue light glasses also have photochromic lenses, providing the same benefits as UV protection glasses, making them suitable for outdoor use as well​