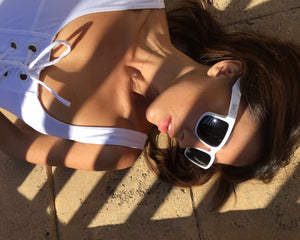 Everything you need to know about us and how we've managed to make 1000's of customers happy
Yes! We gladly offer a 24 months warranty against any manufacturer damage or defects in materials or workmanship on all our sunglasses but not the lenses from the date of purchase. Improper fit or 'change of mind' is not valid criteria for warranty. Damaged or defective merchandise are items that have a noticeable material or workmanship defect that is not caused by standard wear. See exchange/return info further down.
Yes they do! But you shouldnt have them in the water for to long. If you got mirror lenses its a very bad ide.
As a standard, all Zerpico eyewear comes with European Conforming (CE) UV 400 (100% UVA/UVB) lenses with infused Polarizing filters. Our Tac Lenses are chosen because of their superior optical clarity, impact resistance and ability to eliminate visible glare (both atmospheric and reflective) which improves sharpness and makes colors more vibrant. Our Carbon Fiber comes with 7 layers and all other with 5.
Polarized lenses are ideal for anyone who wears sunglasses outdoors. The polarizer filter has been produced to eliminate atmospheric and reflective glare (water, car hoods, windows, etc..). Those who wear polarized lenses will notice a drastic reduction in glare, and an improvement in both colour vibrancy and sharpness. They are most popular with drivers, boaters, fisherman and skiers or snowboarders. Though they are for everyday use.
Ofcource! We use sustainable & ethically sourced raw materials. While the majority of our wood is from FSC certified plantations and managements, we also seek wood that is from fallen trees or that can be repurposed, where possible.
Our carbon fiber and titanium comes from the best sources and we always handpick the best material aviable out there.
Most people are surprised that the weight of our sunglasses is 30-50% lighter than all others out there. And still much better quality.
It all depends how well you treat them! Overall there is not much you can do to hurt our sunglasses and they are very durable, but sitting directly on them will usually be the end of them! Our products are all made of the best wood out there which are chosen for their long lasting and visual characteristics.
We mean that All materials are sustainably sourced from 100% Eco-Friendly factories and made from hand.
Shipping is FREE with orders over $100 otherwise it will cost from $4 and up.
Once you place your order, you will receive a confirmation email. Generally, orders will leave within 1-3 business days and arrive within 4-10 business days from time of order. Nordic countries usually take 3 days but US orders can take up to 9 days.
Zerpico will accept returns & exchanges within 14 days of receipt of your order. We can only accept exchanges and returns on unworn products purchased from zerpico.com with proof of purchase.
You can choose any method you like but we highly advise you choose a method that provides you with a tracking number. Zerpico will not take responsibility for any returned packages which are lost or damaged during transit..
And for those who want even more information
View all